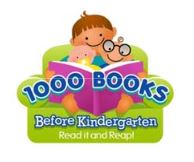 The Plumb Memorial Library  participates in the 1000 Books Before Kindergarten program.
The concept is simple: read a book (any book) to your newborn, infant, and/or toddler. The goal is to have read 1,000 books (yes you can repeat books) before your child starts kindergarten. It's not as hard as it may sound.  If you read just 1 book a night, you will have read about 365 books in a year. That is 730 books in two years and 1,095 books in three years. If you consider that most children start kindergarten at around 5 years of age, you have more time than you think!
When you register your child(ren) in the program at the Plumb Library, you will receive a binder with sheets for logging in your first 100 books.  After you and your child have read your first 100 books, bring the binder back and staff will initial it, hand you your log sheets for the next 100 books, and give your child a reward for the 100 books read.
The program is free. All materials provided to families at no cost
Open-ended, rolling enrollment – start at any time
Caregivers who read include parents, grandparents and nannies
Multiple preschoolers in a family can each be enrolled and receive her or his own book. The same books can be logged for both children if they shared a book at the same time
Favorite books can be re-read but logged only once per page
For more information, visit 1000 Books Foundation, or stop by either Shelton library.