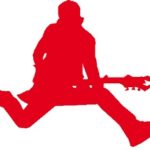 At the Huntington Branch this summer, read like a rock star! Come in and pick up your BINGO card and start playing!  (See rules below)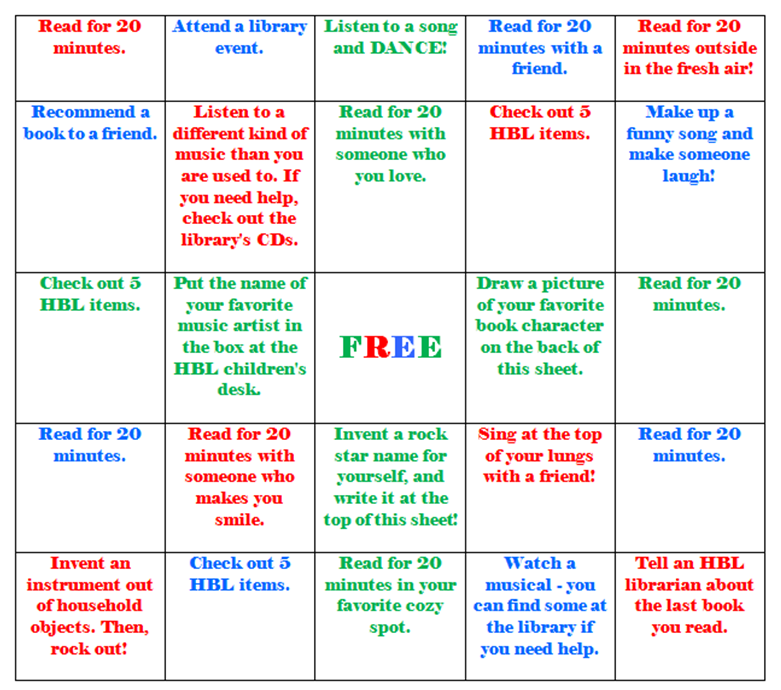 How to Play Reading Rock Star BINGO
Each time you finish a task, ask your parent/guardian to initial the square. You may perform the tasks in any order. To earn a prize, your completed squares must make the following formations. (Five in a row doesn't equal a prize.)
+ (Green Squares) = Rockin' Prize 1
Plus, you are now eligible to attend the Reading Rock Star Bash on August 9 at 3:30 PM! Registration is required and begins July 26.
x (Red Squares) = Rockin' Prize 2
Plus, choose a gently used donated book!
Full Card = Rock 'n' Roll Monkey
Plus, choose a book for the library to add to its collection with a name plate in your honor! Fill out a Book Form.
To collect a prize, bring in your card. We prefer that you be present, but your parent/guardian will be allowed to pick a prize in your absence. Prizes can't be exchanged.
You may complete one card. However, if you lose your card, you may pick up a replacement and begin where you left off.
What counts as reading?
Listening to someone read to you
Listening to audio books
Independently reading print books, ebooks, graphic novels, magazines, or Internet articles
Reading aloud to someone special
Cards are due by Friday, August 5 at 4:45 PM.
Have fun rocking and reading!