Take Your Child to the Library Day
Join the Plumb Memorial Library and the Huntington Branch Library to celebrate "Take Your Child to the Library Day"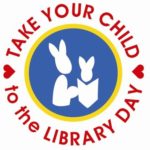 The Children's Department of the Plumb Memorial Library will be offering a special day of events to celebrate "Take Your Child to the Library Day" on Saturday, February 3rd.
At 11:00 am join us for a talk by local authors Stephanie Robinson and Jessica Haight. They have written the popular "Fairday Morrow" series for children. They will be talking about how their writing grew out of their childhood friendship and the excitement of having a series of books become so popular with school age children. They will have books available for purchase and will happily autograph everyone's books.  Please register here or by calling 203-924-9461.
Then at 3:00 pm, Plumb Memorial Library will welcome "Critter Caravan," an interactive animal program featuring sisters Tori and Kathryn and their exotic reptile and mammal show. Their hands-on approach will have children learn using all of their senses while being up close to a variety of interesting creatures in a gentle and inclusive environment. Please register here or by calling 203-924-9461.

Both programs are open to children of all ages and their caregivers. Registration is required and can be done by calling the Children's Department at Plumb Memorial Public Library at 203-924-9461 or online at the links above.
The celebration continues at the Huntington Branch Library!
On Monday, February 5th, from 5:00 pm to 5:45 pm, children of all ages and their families are invited to play group party games and board games during an evening of fun at the library! Register here or call 203-926-0111.